Comprehensive Heating & AC Services in Apple Valley, CA
Don't let HVAC issues disrupt your comfort! Contact FHA Services, Inc. today to discuss your heating and cooling needs in Victorville, Hesperia, and Apple Valley, CA!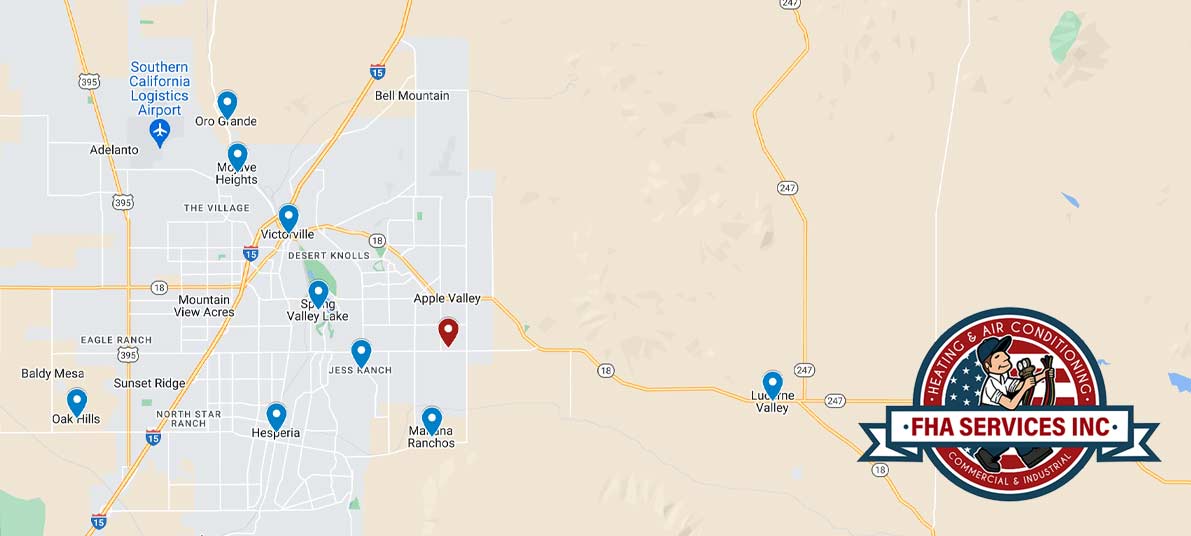 Are you facing HVAC issues in Apple Valley, CA? At FHA Services, Inc., we understand the importance of a well-functioning heating and cooling system.
As a family-owned business with over 25 years of experience, we offer comprehensive HVAC services, including AC repair and replacement, heating repair, and mini-split installations. Our outstanding customer service and straightforward pricing make us the go-to choice for all your HVAC needs.
Get to know more about us to see why we're the trusted HVAC company in Apple Valley, CA, and beyond!
Our Service Areas
We proudly serve customers in and around the Apple Valley Metro. Our service areas include:
Don't see your city listed here? Give us a call anyway to see if we service your area!
AC Repair and Replacement in the Victor Valley
At FHA Services, Inc., our technicians are experts in diagnosing and fixing AC issues. We offer quick, reliable AC repair and replacement services in the Victor Valley.
Our comprehensive services include refrigerant leak repair, thermostat repair, coil cleaning, air filter replacement, and ductwork repair. With our same-day service guarantee, we ensure your comfort is restored promptly.
Heating Repair Services in the Victor Valley
A faulty heating system can disrupt your day and even pose health risks during the colder months. At FHA Services, Inc., our professional technicians are experienced in repairing all types of heating systems, from furnaces to heat pumps. We commit to providing on-time heating repair services throughout the High Desert, ensuring your home or office stays warm and cozy.
Our comprehensive heating repair services include:
Thermostat troubleshooting: We can diagnose and fix issues with your thermostat to ensure it's communicating effectively with your heating system.
Heat exchanger repair: Our technicians can repair or replace damaged heat exchangers to prevent dangerous carbon monoxide leaks.
Blower motor repair: We can fix issues with your system's blower motor to ensure proper airflow and heating.
Ignition control repair: Our team can repair faulty ignition controls to ensure your system starts and operates safely.
Ductwork inspection and repair: We can inspect and repair your ductwork to ensure efficient heat distribution throughout your property.
Regular maintenance: We offer regular maintenance services to prevent future issues and extend the lifespan of your heating system.
With our straightforward pricing and outstanding customer service, you can trust us to restore your comfort quickly and efficiently. Don't let a faulty heating system leave you in the cold — contact FHA Services, Inc. today.
Discover the quality of our work straight from our clients' experiences. Check out their honest reviews to learn more!
Mini-Split Installations Throughout the High Desert
Mini-split systems are a great way to control the temperature in individual rooms or spaces. Our team has experience installing mini-split systems throughout the Victor Valley. We educate our customers about the benefits of these systems, ensuring you make an informed decision.
In addition to HVAC services, FHA Services, Inc. also offers comprehensive evaporative cooler services to keep you comfortable during the hot summer months.
Ready to restore your comfort in Lucerne Valley, Oro Grande, or Apple Valley, CA? Call us at 760-247-5126 to schedule your HVAC service with FHA Services, Inc. today. We proudly deliver unmatched heating and cooling services across the entire High Desert!.