Oak Hills, CA, Heating Services
Don't let the cold get to you in Victorville, Hesperia, or Oak Hills, CA. Reach out to us for your heating maintenance and furnace repair needs.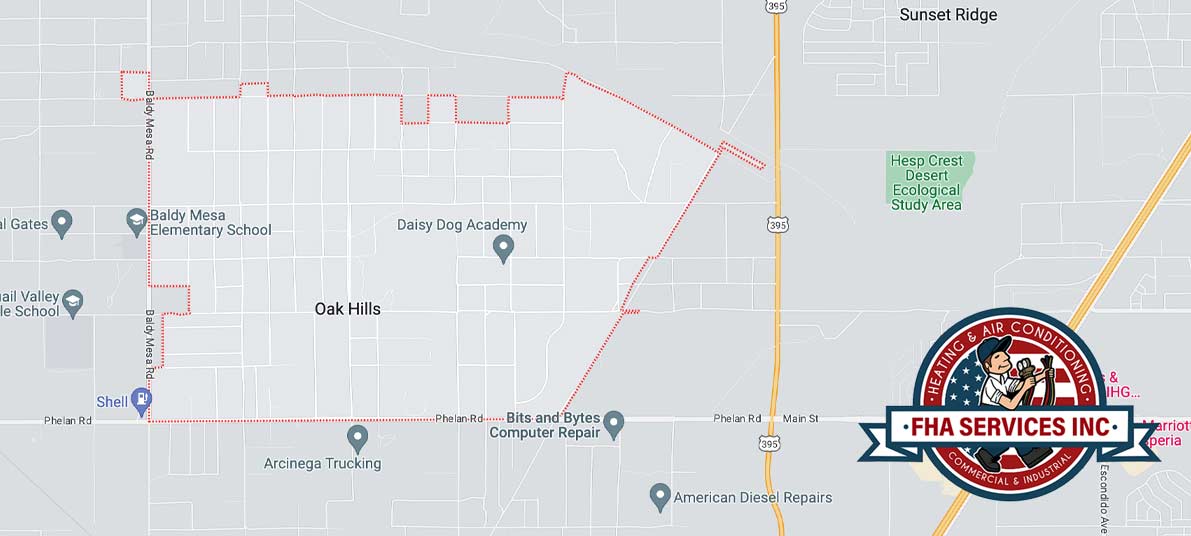 Are you tired of shivering in your home during the winter months of Oak Hills, CA? At FHA Services, Inc., we know how crucial a well-functioning heating system is for your comfort and safety.
We're proud to be a leading provider of Oak Hills heating services, including heater tune ups, central heating installation, and furnace maintenance service. As a family-owned furnace contractor for over 25 years, we're also committed to providing straightforward pricing and outstanding customer service.
Read our reviews and see why our customers trust us for all their heating needs in Oak Hills, CA.
Heating Replacement and Repair in Victor Valley
A faulty heater can be more than just an inconvenience; it can also be a safety hazard. Our team of trusted technicians has years of experience diagnosing and fixing various heater issues, ensuring your home stays warm and safe. Our heater repair services include:
Diagnosing the problem
Providing a detailed quote for repairs
Fixing the issue using the latest technology
We also offer heater installation services, helping you choose the right system for your home and installing it efficiently and correctly. Trust FHA Services, Inc. as your go-to heating repair company for all your Oak Hills heating services needs.
Furnace Repair & Installs in Lucerne Valley
A well-functioning furnace is essential during the colder months. We offer comprehensive furnace services to ensure your heating system is always in top condition.
Regular maintenance is crucial to the longevity and efficiency of your furnace. Our expert technicians conduct thorough inspections and tune-ups to help prevent unexpected breakdowns and enhance energy efficiency.
Despite regular maintenance, furnaces can sometimes encounter issues. Whether it's a faulty thermostat or a problem with the heat exchanger, our team is ready to handle a wide range of common furnace issues. We diagnose and fix problems quickly and accurately, restoring your furnace to optimal operation.
In some cases, a furnace replacement may be the most cost-effective solution. We offer installation services for new, energy-efficient furnaces from leading brands. Our team can guide you through the selection process and install your new furnace seamlessly, adhering to the highest safety and quality standards.
At FHA Services, Inc., we pride ourselves on providing on-time service and professional technicians. For all your furnace needs in Oak Hills, CA, trust our experts because we remain dedicated to keeping your home comfortable, even during brutal California winters.
Visit our About Us page to learn more about our commitment to quality, customer service, and Oak Hills heating services.
Heat Pump Services in Oro Grande
Heat pumps are an excellent option for efficient heating and cooling in your home. We offer multiple heat pump services, including the following:
Installation of new heat pumps
Regular maintenance to keep your heat pump running efficiently
Repairs for common heat pump issues
Whether you need service for your existing heat pump or want to upgrade your heating system, trust us for reliable, professional heat pump services in Oak Hills, CA.
Ready to experience the difference with FHA Services, Inc.? Call us today at 760-247-5126 for top-rated heating and furnace repair services in Oak Hills, CA. We also proudly serve the communities of Jess Ranch and Spring Valley Lake.