Spring Valley Lake, CA, Cooling Services
Experience the best cooling solutions with FHA Services, Inc. in Spring Valley Lake, CA, and beyond. Don't wait — schedule your service today in Victorville or Hesperia!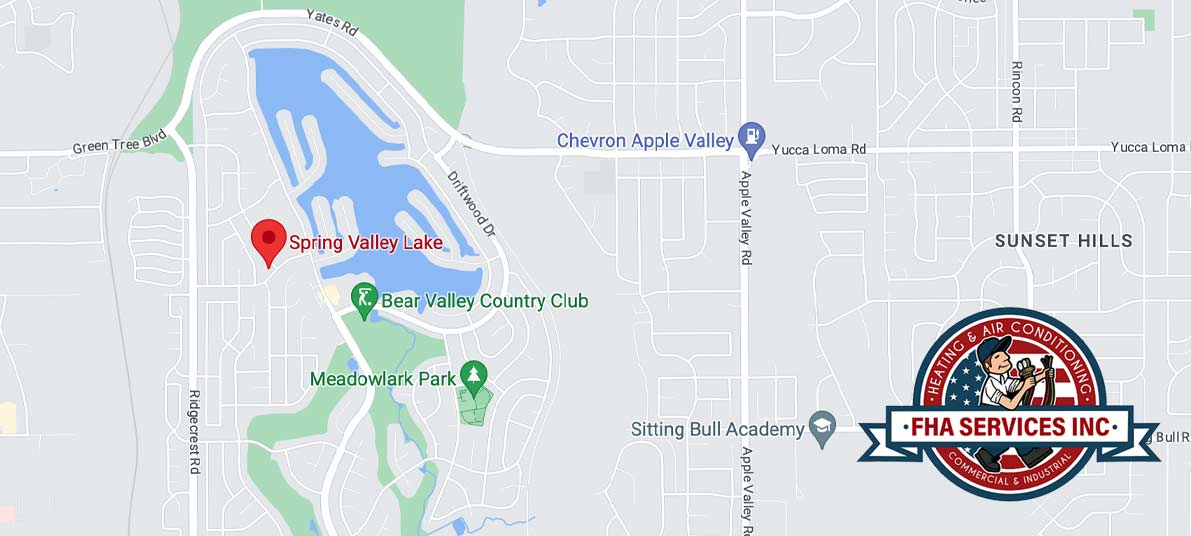 As a Spring Valley Lake, CA, resident, you know how crucial a well-functioning air conditioning system is, especially during the sweltering summer months. We understand this need at FHA Services, Inc. and commit to providing top-notch cooling services.
Whether you need air conditioning installation, central AC repair, AC maintenance services, or AC replacement, our trusted technicians are ready to serve you. We offer same-day service, ensuring that your comfort is restored as quickly as possible.
As a family-owned and operated business for over 25 years, we pride ourselves on our straightforward pricing, outstanding customer service, and commitment to customer education. We believe in providing a service and helping our customers understand their cooling systems better.
Read our reviews and see why our customers trust us for their cooling needs in Spring Valley Lake, CA, and surrounding areas.
AC Maintenance Services and Repairs in the Victor Valley
When your AC system starts showing signs of trouble like uneven cooling, strange noises, or frequent tripping, it's time to call in the experts. Our FHA Services, Inc. team has experience diagnosing and fixing a wide range of AC issues, ensuring your home stays comfortable even during summer. Our AC repair and maintenance services include:
Comprehensive system checks
Refrigerant leak repair
Filter replacement
System tune-ups
By choosing FHA Services, Inc. for your air conditioning repair and maintenance, you're choosing a company with a proven track record of excellence for Spring Valley Lake cooling services.
AC Installs & Replacements in the High Desert
It might be time for a new installation if your air conditioning system is old, inefficient, or beyond repair. We offer ductless and central AC installations using leading brands' latest technology and energy-efficient units. Our installation and replacement services in the Victor Valley include:
Professional guidance on choosing the right unit
Efficient and meticulous installation
Warranties on all installations
With FHA Services, Inc., you can rest assured that we'll install your new air conditioner correctly the first time, providing you with reliable cooling for years to come.
We encourage you to learn more about our company and our commitment to providing top-quality cooling services on our About Us page.
Ductless Mini-Split Services in Victorville
We offer ductless mini-split services for homes without ductwork or those looking for a more energy-efficient cooling solution. These systems provide targeted cooling that allows you to control the temperature in individual rooms and save on energy costs. Our ductless mini-split services in Victorville include:
Installation of new ductless mini-split systems
Repair and maintenance of existing systems
Professional advice on system placement for optimal cooling
As a BBB-accredited AC contractor in Spring Valley Lake, CA, FHA Services, Inc. ensures you get expert cooling services backed by our commitment to customer satisfaction.
Recent Jobs and Reviews in Spring Valley Lake, CA
For all your cooling needs in Spring Valley Lake, CA, call FHA Services, Inc. at 760-247-5126. We also proudly serve the communities of Lucerne Valley and Oro Grande. Trust us to keep your home cool and comfortable all year round with unmatched AC tune up, installation, and maintenance services.