Oak Hills, CA, Cooling Services
Experience the best in Oak Hills cooling services with FHA Services, Inc. in Victorville and Hesperia. Call us today!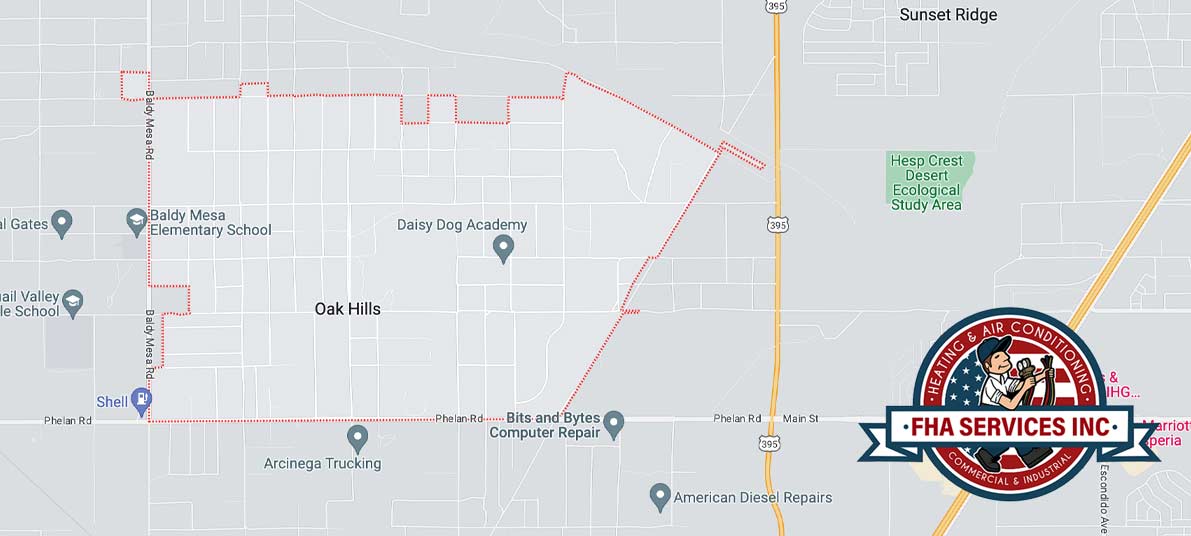 Welcome to FHA Services, Inc., your trusted cooling service provider in Oak Hills, CA. We know how a malfunctioning air conditioner can disrupt your comfort, especially during the hot California summers.
We offer top-notch air conditioning installation, central AC repair, and AC maintenance services. As a family-owned and operated AC contractor for over 25 years, we pride ourselves on delivering same-day service, straightforward pricing, and outstanding customer service.
Curious to know what your Oak Hills, CA, neighbors say about us? See for yourself by reading our reviews!
Central AC Repair & Maintenance in Oak Hills, California
When your AC system starts malfunctioning, it's time to call our experts at FHA Services, Inc. These signs can range from uneven cooling across your home and strange sounds emanating from the unit to water leakage.
Each symptom could indicate a different underlying issue, and addressing them promptly can prevent further damage and more costly repairs.
Our trusted technicians are well-versed in diagnosing and fixing air conditioning issues. With our extensive experience and up-to-date knowledge of the latest technology, we can quickly identify the problem and implement the most effective solution.
Our services in Oak Hills, CA, include:
Central AC repair: We handle everything from minor issues like refrigerant leaks to major problems like compressor failures, ensuring your air conditioner is back up and running efficiently.
AC tune up: Regular tune-ups can improve your air conditioner's performance. We inspect your system, clean essential components, and adjust for optimal operation.
AC maintenance services: Regular maintenance extends your unit's lifespan and enhances energy efficiency. It includes replacing air filters, cleaning condenser coils, and checking coolant levels.
Regular maintenance prolongs your unit's life and reduces energy bills and repair costs. Trust us to keep your cooling system running smoothly in Lucerne Valley and beyond.
AC Installs & Replacements in Oro Grande
Whether you're installing a new AC system or replacing an old one, we are here to help by providing reliable air conditioning installation and efficient replacement services.
We work with energy-efficient units from leading brands, so you get the best quality. Our installation professionals are meticulous and efficient, ensuring a hassle-free installation process. Plus, all our installations come with warranties for your peace of mind.
Learn more about us to see why we're the area's go-to team of cooling professionals.
Ductless Mini-Split Services in the Victor Valley
For homes without ductwork, we offer ductless mini-split services. These systems are easy to install, energy-efficient, and provide excellent temperature control. Our services include:
Ductless AC installation.
Ductwork repair.
Evaporator coil cleaning.
Ductless AC replacement.
With our ductless mini-split services, you can enjoy a comfortable and cool home in Oak Hills, CA, without needing extensive ductwork.
At FHA Services, Inc., we commit to providing top-quality Oak Hills cooling services. Our team of polite and professional techs uses the latest technology to deliver efficient and affordable cooling solutions. Plus, we make it easy for you to contact us through text, call, email, or our website.
Recent Jobs and Reviews in Oak Hills, CA
Call our FHA Services, Inc. team today at 760-247-5126! We proudly serve Oak Hills, CA, and other areas in the Victor Valley, including Mojave Heights and Mariana Ranchos.