Oro Grande, CA, Cooling Services
Experience the best in Oro Grande cooling services today! We proudly serve not just Oro Grande, CA, but also the Mojave Desert.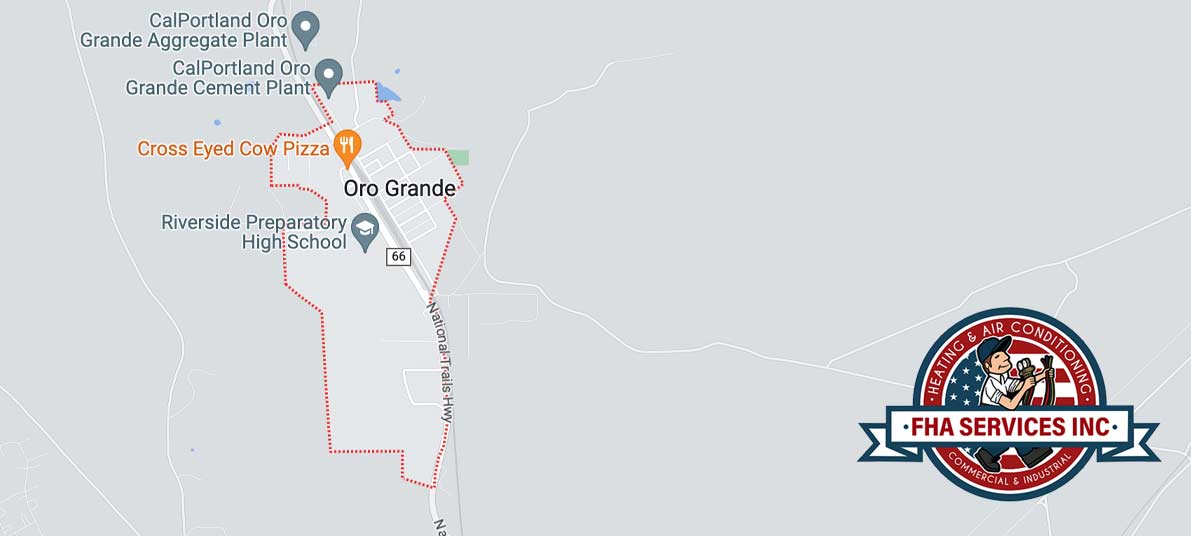 At FHA Services, Inc., we understand the discomfort of dealing with a faulty air conditioning system, especially during the hot summers of Oro Grande, CA.
As a family-owned and operated business for over 25 years, we pride ourselves on our same-day service, straightforward pricing, and outstanding customer service. Our top-notch Oro Grande cooling services include air conditioning installation, central AC repair, AC maintenance services, and AC replacement.
See what our past customers say about our AC tune up and installation services by reading our reviews!
AC Repair & Maintenance in Oro Grande and the Mojave Desert
When your AC system starts showing signs of trouble, such as uneven cooling, strange sounds, or water leakage, it's time to call the professionals. Our trusted technicians have experience diagnosing and fixing a wide range of AC issues, ensuring your home stays comfortable all year round.
Here's what our AC repair and maintenance services include:
Comprehensive system checks
Refrigerant leak repair
Filter replacement
System cleaning and tune-ups
With our Oro Grande cooling services, you can trust that your air conditioner is in good hands. We use the latest technology to provide efficient and reliable solutions, so your system runs smoothly and efficiently.
Air Conditioning Installations & Replacements in the High Desert
Whether you're installing a new AC system or replacing an old one, FHA Services, Inc. has got you covered!
Our team of experts can guide you through the process and help you choose the right unit for your home, ensuring a seamless installation process. We provide AC installation and replacement services such as:
Central air conditioning installation
Ductless mini-split system installation
System upgrades and replacements
As a BBB-accredited AC contractor, we only work with top-quality brands. That way, you get s durable, efficient, and reliable system. Plus, with our straightforward pricing, you'll know what to expect—no hidden fees or surprises.
Interested in learning more about us? Visit our About Us page to get to know our team and our values.
Ductless Mini-Split Services in Oro Grande and Neighboring Townships
Ductless mini-split systems are an excellent choice for homes without existing ductwork or those looking to enhance their energy efficiency.
These systems offer flexible installation options, allowing them to go in various locations throughout your home, including individual rooms or specific zones. This ensures optimal comfort and efficiency, as you can control the temperature in each area independently.
Moreover, ductless mini-split systems can provide heating and cooling, making them a versatile choice for any home, regardless of the season. This dual functionality can save energy because you only use one system for all your comfort needs.
Our ductless mini-split services include installation, regular maintenance, and system repairs. We install your system correctly and ensure it runs at peak efficiency.
With our regular maintenance service, you can prevent potential issues, prolong the life of your system, and keep it running smoothly. And if any problems do arise, our skilled technicians are ready to handle any repairs quickly and effectively.
Recent Jobs and Reviews in Oro Grande, CA
Look no further than FHA Services, Inc. for top-rated cooling services. Call us today at 760-247-5126 to schedule a service in Victorville, Hesperia, or Oro Grande, CA. We're here to keep your home comfortable, no matter the weather.