Lucerne Valley, CA, Cooling Services
Need a reliable AC contractor in Lucerne Valley, CA? FHA Services, Inc. is here to help! We also serve Victorville and Hesperia with top-notch cooling services.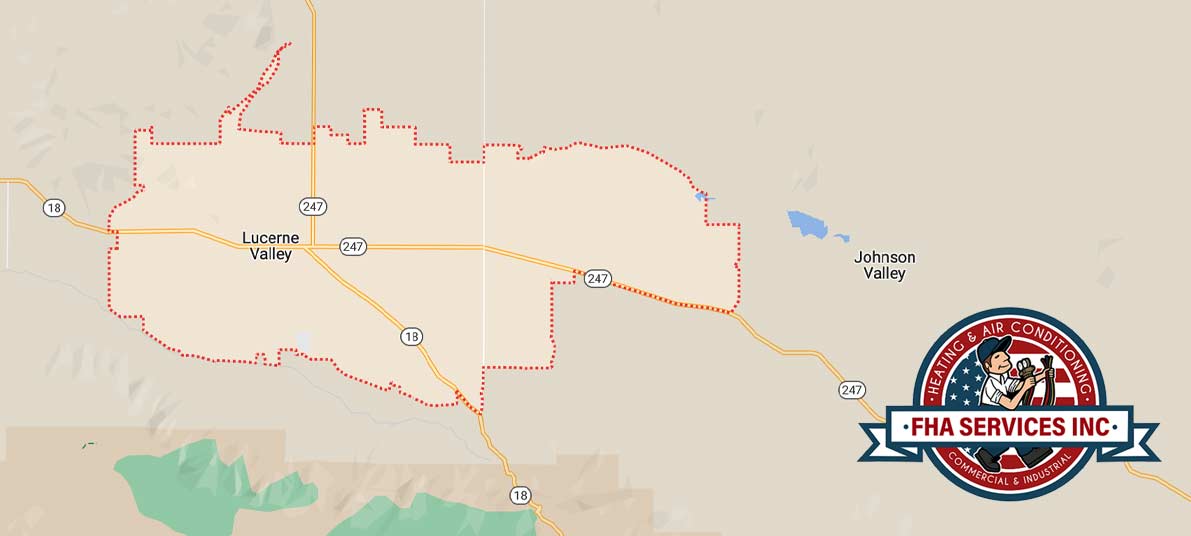 Are you struggling with a faulty air conditioner in the scorching heat of Lucerne Valley, CA? Don't sweat it! At FHA Services, Inc., we offer premier Lucerne Valley cooling services to keep your home comfortable all year round.
As a family-owned and operated business for over 25 years, we pride ourselves on our same-day service and straightforward pricing. Our services include air conditioning installation, central AC repair, AC maintenance services, AC tune up, and AC replacement.
Check out our reviews from satisfied customers to see what your neighbors say about our highly-rated team!
Central AC Repair & Maintenance in the Southern Mojave Desert
Regular maintenance is crucial to prevent issues and extend the lifespan of your AC system. So, when your AC system starts working less efficiently, it's time to call in the experts.
At FHA Services, Inc., we understand the discomfort and inconvenience a malfunctioning air conditioner can cause, especially in the harsh climate of the Southern Mojave Desert.
That's why we offer comprehensive AC repair and maintenance services to ensure your home remains a cool sanctuary.
Our maintenance services include thoroughly inspecting your unit, cleaning essential components, checking for potential issues, and making necessary adjustments. This proactive approach helps to identify and address minor issues before they escalate into major problems, saving you time and money in the long run.
Sometimes, despite the best maintenance practices, parts of your AC system may become old or damaged and need replacement. We can replace any air conditioner component, from filters and coils to fans and compressors. We use high-quality parts to ensure durability and optimal performance.
With our trusted technicians and the latest technology, we ensure your AC system in the Southern Mojave Desert runs smoothly and efficiently.
We commit to providing the best cooling services possible in Lucerne Valley, CA, and beyond, so you can enjoy a cool and comfortable home, regardless of the outside temperature. Trust FHA Services, Inc. for all your AC repair and maintenance needs.
AC Installs & Replacements in the High Desert,
Whether you're installing a new AC system or replacing an old one, we've got you covered. Our AC installation and replacement services include:
Professional guidance on choosing the right unit for your home.
Efficient installation of ductless or central air conditioners.
Replacement of outdated or inefficient AC units.
Our polite and professional techs in Lucerne Valley, California, ensure a hassle-free installation process, leaving you with a cool and comfortable home.
Want to learn more about us? Visit our About Us page to discover why we're a trusted cooling service provider in Lucerne Valley, CA.
Ductless Mini-Split Services in Lucerne Valley, California
Ductless mini-split systems are a great solution for homes without existing ductwork or those looking to cool specific rooms. Our ductless mini-split services include:
Installation of energy-efficient ductless mini-split systems
Regular maintenance to ensure optimal performance
Repair of common issues
In Lucerne Valley, CA, we offer ductless mini-split services that provide personalized comfort and improved indoor air quality.
Recent Jobs and Reviews in Lucerne Valley, CA
 Ready to experience the best in cooling services? Call FHA Services, Inc. at 760-247-5126 today! We proudly serve Lucerne Valley, CA, and other areas, including Oro Grande and Jess Ranch.