Mariana Ranchos, CA, Heating Services
Experience the best heating services in Mariana Ranchos, CA, and beyond. Contact us today for assistance in Victorville and Hesperia!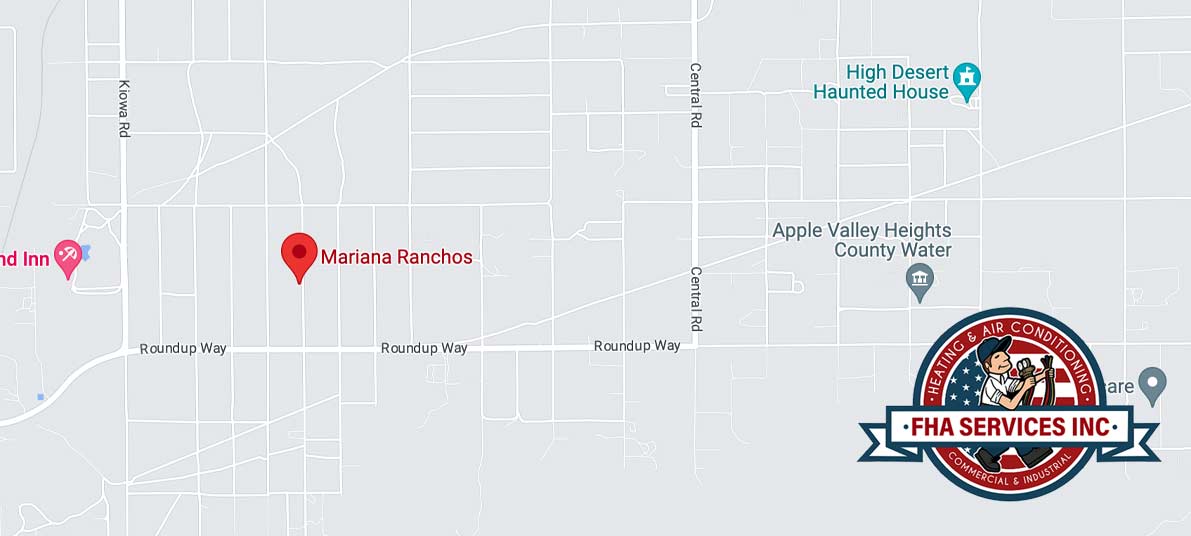 At FHA Services, Inc., we understand the discomfort of dealing with a faulty heating system. That's why we offer top-notch heating services in Mariana Ranchos, CA, to ensure your home stays warm and cozy.
Our services include heater tune up, heating maintenance, and central heating installation. As a family-owned and operated heating and furnace contractor for over 25 years, we pride ourselves on providing straightforward pricing and outstanding customer service.
Read our glowing reviews from satisfied customers in the Mariana Ranchos, CA, region to see what they say about our highly-rated heating repair company!
Heater Repair & Installs in Apple Valley, CA
If your heater isn't performing as it should, it's time to call in the experts. We offer the following services:
Comprehensive heater repair services: Our team can handle many issues, from minor glitches to major malfunctions. We know a broken heater can disrupt your comfort and peace of mind, so we diligently diagnose and fix the problem immediately.
Efficient heater installation: If you're installing a new heating system for a new property, we can help. We offer professional heater installation services, ensuring your new unit is set up correctly and efficiently.
Regular heater tune ups: Regular maintenance is key to extending the lifespan of your heater and keeping it running at peak efficiency. Our heater tune up services include a thorough inspection of all components, cleaning, and necessary adjustments to prevent potential issues down the line.
Heating replacement: When your old heater no longer keeps your home warm and comfortable, we can replace it with a new, more reliable system that delivers unmatched performance.
Our team of trusted technicians is well-versed in handling all types of heating systems. We can quickly diagnose and fix any issues, ensuring your heater is back up and running in no time. Our Mariana Ranchos heating services can provide peace of mind and a warm, comfortable home.
Furnace Repair & Installs in the High Desert
A faulty furnace can lead to high energy bills and inadequate heating. Fortunately, we can help by providing the following services:
Same-day furnace repair
Furnace installation and replacement
Regular furnace tune-ups
Furnace maintenance service
Trust FHA Services, Inc. for reliable furnace services in Mariana Ranchos, CA. Our team has experience working with all types of furnaces. We can quickly identify and fix any issues, ensuring your furnace operates at peak efficiency.
Interested in learning more about us? Visit our About Us page to get to know us better.
Heat Pump Services in Victorville, CA
Heat pumps are an efficient way to heat your home, but like any other system, they require regular maintenance and occasional repairs. Our heat pump services include:
Heat pump installation
Heat pump repair
Regular maintenance to keep your heat pump running efficiently
At FHA Services, Inc., our team of professionals can handle all types of heat pump issues, big or small. So no matter the problem, you can trust us to help keep your home warm all winter.
Recent Jobs and Reviews in Mariana Ranchos, CA
Call us today at 760-247-5126 for top-rated heating and furnace repair services in Mariana Ranchos, CA, and surrounding areas like Lucerne Valley and Oro Grande. Trust FHA Services, Inc. to deliver unmatched heating services.