Jess Ranch, CA, Cooling Services
Experience the best air conditioning services in Jess Ranch, Victorville, and Hesperia by contacting our FHA Services, Inc team.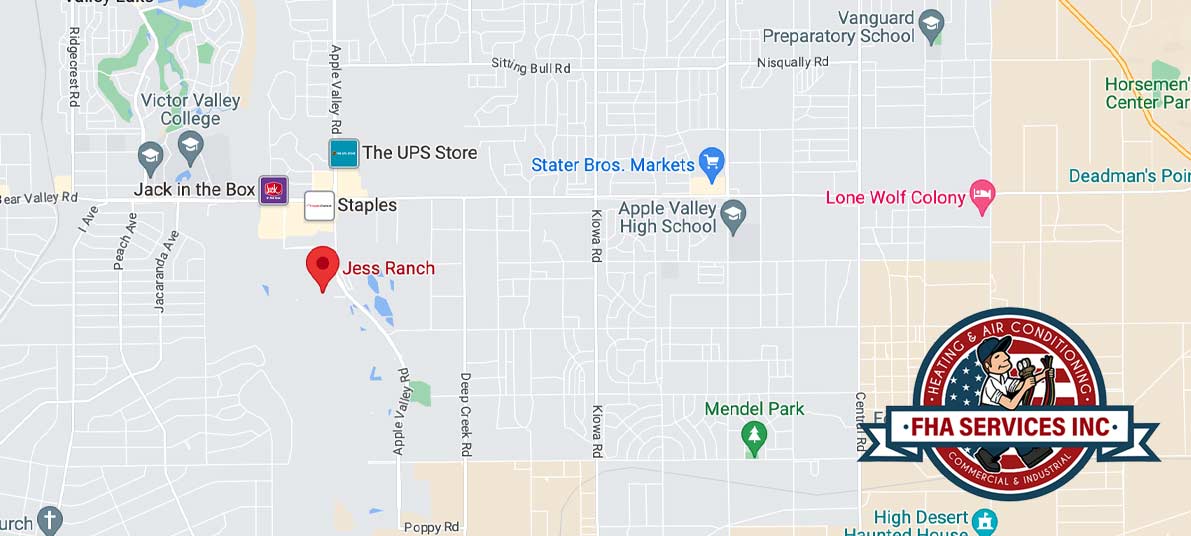 At FHA Services, Inc., we understand the discomfort of dealing with a malfunctioning air conditioning system in the heat of Jess Ranch, CA. We offer top-notch cooling services to ensure you enjoy a comfortable and cool environment, regardless of the outside temperature.
As a family-owned and operated business for over 25 years, we pride ourselves on offering same-day service, straightforward pricing, and outstanding customer service. Our services range from air conditioning installation, central AC repair, and  AC maintenance services to AC replacement.
Read our reviews and see why we are the trusted team for AC tune up and replacement in Jess Ranch, CA, and surrounding areas.
Central AC Repair & Maintenance in the Victor Valley
When your air conditioner starts showing signs of trouble, such as uneven cooling, strange noises, or water leakage, it's time to call our experts. Our FHA Services, Inc. team is ready to handle all your AC repair needs. We offer:
Comprehensive AC system inspection
Identification and repair of refrigerant leaks
Replacement of faulty components
System performance testing
Regular AC maintenance prevents unexpected breakdowns and ensures your system operates at peak efficiency. Our maintenance services include thoroughly cleaning your air conditioner, changing air filters, inspecting electrical connections, and more.
With our Jess Ranch cooling services, you can rest assured that your air conditioner is in the hands of trusted technicians committed to delivering high-quality service in Jess Ranch, CA.
Air Conditioning Installs & Replacements in Jess Ranch, California
Whether you're installing an AC system in a new building or replacing an old, inefficient unit, FHA Services, Inc. is the AC contractor you can trust. We offer:
Professional advice on the best AC system for your needs.
Installation of energy-efficient air conditioning units from leading brands.
Proper setup and testing to ensure optimal performance.
Our AC replacement services can provide a more efficient, reliable, and durable cooling solution. We'll help you choose the right air conditioning unit to fit your needs and budget, and our professional technicians can install it efficiently and correctly for maximum performance and longevity.
Learn more about us to see why we're the leading cooling services provider in Jess Ranch, CA, and beyond.
Ductless Mini-Split Services in Lucerne Valley
Ductless mini-split systems are an excellent solution for homes without existing ductwork or for those looking to improve energy efficiency. These systems offer the flexibility to cool or heat each room individually, providing a comfortable environment tailored to your needs. They also offer quiet operation and impressive energy efficiency, making them a popular choice among homeowners in Lucerne Valley.
At FHA Services, Inc., we specialize in installing, maintaining, and repairing ductless mini-split systems. Our professional technicians have the expertise to install these systems properly, ensuring optimal performance and longevity. We also provide regular maintenance services to keep your system running efficiently, which includes cleaning and inspecting the system and checking for any potential issues.
As a BBB-accredited business, FHA Services, Inc. ensures you get the latest technology, on-time service, and peace of mind.
Recent Jobs and Reviews in Jess Ranch, CA
For all your cooling needs in Jess Ranch, CA, call us at FHA Services, Inc. at 760-247-5126. We also serve Oro Grande and Mojave Heights, California!