Mojave Heights, CA, Heating Services
Don't let the cold get to you in Victorville, Hesperia, or Mojave Heights, CA. Reach out to FHA Services, Inc. for top-notch heating solutions today!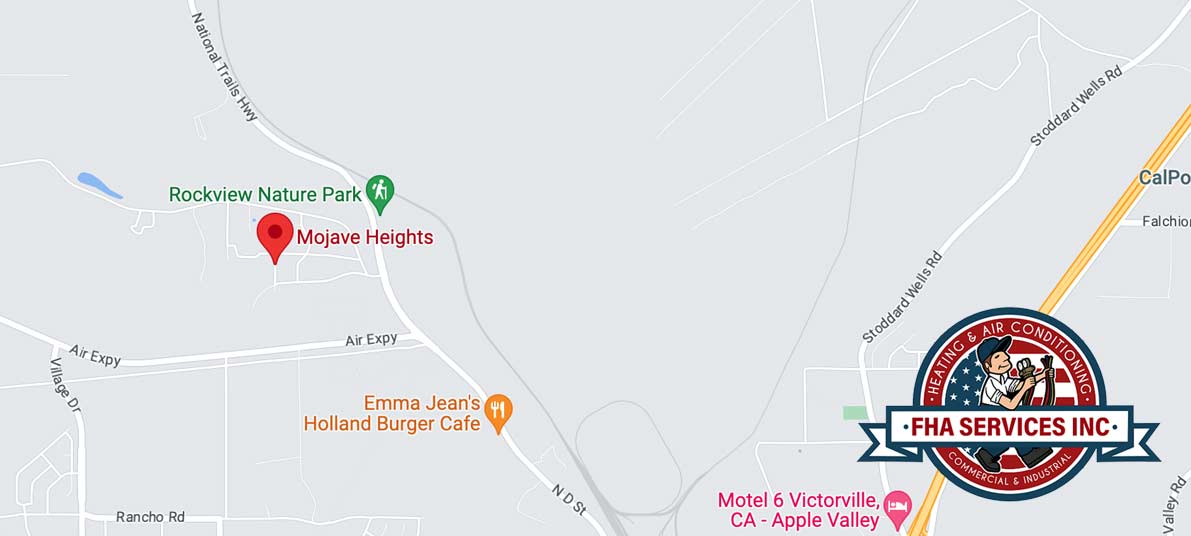 At FHA Services, Inc., we understand the discomfort and inconvenience of a malfunctioning heating system. That's why we offer comprehensive heating services in Mojave Heights, CA, to keep your home or office warm and cozy.
Our services include heater tune-ups, heating maintenance, heating repair, central heating installation, and heating replacement. As a family-owned and operated heating and furnace contractor for over 25 years, we pride ourselves on our straightforward pricing and outstanding customer service.
Read our customer reviews to see what your Mojave Heights, CA, neighbors have to say about our heating repair company.
Central Heating Installation and Repairs in Mojave Heights and Victor Valley
A faulty heater can be more than just an inconvenience; it can also be a safety hazard. That's why we provide multiple services to keep your heater functional, including:
Heater repair services: Our team of skilled technicians can diagnose and fix any heater issue, from minor glitches to major malfunctions. We use the latest tools and techniques to repair your heater quickly and effectively. Whether it's a faulty thermostat, a broken heat exchanger, or an issue with the fan motor, we've got you covered.
Heater installation: Whether you're installing a new heating system or replacing an old one, our team can handle it. We offer professional heater installation services, ensuring your new unit is set up correctly for optimal performance. We work with multiple heater types and brands, offering various options to suit your needs and budget.
Emergency heater services: When your heater breaks down during a cold night, you need a service provider who can respond quickly. That's why we offer emergency heater services in Mojave Heights, CA, and the surrounding areas. Our technicians are available round the clock so you never have to suffer the cold.
Our experienced technicians are familiar with all heating systems and can provide a lasting solution that fits your budget. We'll ensure your heating system is safe, efficient, and reliable. Trust FHA Services, Inc. for all your Mojave Heights heating services.
Furnace Repair & Installs in Mojave Heights and the High Desert
Whether you need a new furnace installed or your existing one repaired, we've got you covered. Our furnace services include:
Furnace installation
Furnace repair
Furnace maintenance service
Emergency furnace repair service
We only install furnaces from leading brands that offer energy-efficient products with impressive warranties. If your current system is not user-friendly or cost-effective, let us provide you with a replacement.
Interested in learning more about us? Visit our About Us page to find out more about our commitment to quality service.
Heat Pump Services in Mojave Heights and Victorville
Heat pumps are an efficient way to heat your home, and we are experts in:
Heat pump installation
Heat pump repair
Heat pump maintenance
Our technicians have the training and experience to service all brands and types of heat pumps so your home stays warm throughout the winter.
Don't let a faulty heating system leave you in the cold. Call us at 760-247-5126 for top-rated heating services in Mojave Heights, CA. Our FHA Services, Inc. team also serves the communities of Lucerne Valley and Oro Grande.