Victorville, CA, Heating Services
For top-notch heater tune ups and furnace installations in Victorville, Hesperia, and Lucerne Valley, contact us at FHA Services, Inc. Let's discuss your heating needs today!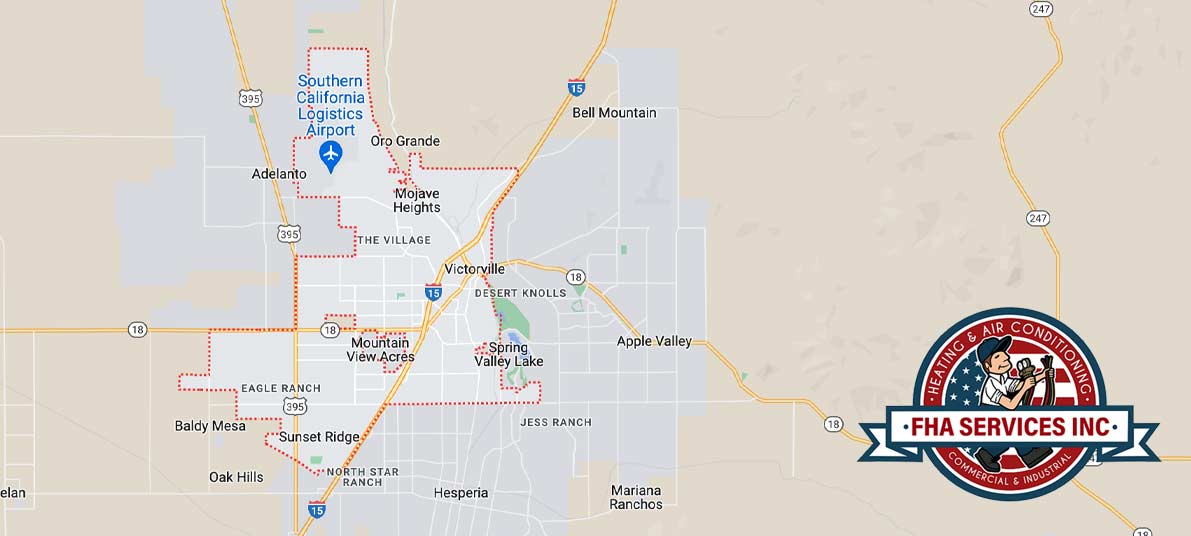 Are you struggling with a malfunctioning heater in the middle of a chilly night in Victorville, CA? At FHA Services, Inc., we understand how crucial a well-functioning heating system is for your comfort and safety.
Our Victorville heating services include everything from heater tune ups and heating maintenance to central heating installation and heating replacement.
As a family-owned business operating for over 25 years, we pride ourselves on our straightforward pricing and outstanding customer service. We're not just a heating repair company but your trusted partner in ensuring a warm and cozy home.
Don't just take our word for it. Check out our reviews and see why our customers in Victorville and beyond trust us for their heating needs.
Heater Repair & Installs in Victor Valley
If your heater is making unusual noises, cycling on and off frequently, or failing to heat your home evenly, these are clear signs that you may need a heater repair.
Our trusted technicians begin by diagnosing the issue with your heater. Once we identify the problem, we explain the repair process and provide a precise cost estimate before starting any work.
Our heater repair and installation services in Victor Valley are second to none. With the latest technology and on-time service, we ensure your heating system is up and running when needed.
Furnace Repair & Installs in San Bernardino County
Identifying the need for furnace repair can be tricky. However, rising energy bills, poor air quality, or frequent breakdowns indicate that your furnace may need professional attention.
At FHA Services, Inc., you will get customer-focused Victorville heating services. Our technicians will thoroughly inspect your furnace, diagnose the problem, and discuss the best solution. We provide upfront pricing with no surprises.
We also provide regular furnace maintenance service and timely furnace repair service, which can increase your furnace's lifespan and efficiency for safer operation. With our services, you can enjoy peace of mind knowing your home's warmth and comfort are in good hands.
Want to learn more about us? Visit our About Us page to discover why we're the preferred choice for heating services in Victorville, CA.
Heat Pump Services in Victorville, California
Recognizing when your heat pump needs professional attention is key to maintaining a comfortable, energy-efficient home. At FHA Services, Inc., we offer various heat pump services. Our preventative maintenance includes a thorough check to identify potential issues early, keeping your heat pump efficient and extending its lifespan.
If your heat pump isn't performing optimally, our skilled technicians provide repair services and restore your system's reliability. We offer replacement services for older or irreparable heat pumps, installing a new, energy-efficient model tailored to your needs and budget.
You can expect enhanced comfort, improved energy, and extended equipment life from a trusted furnace contractor. Trust FHA Services, Inc. for all your heat pump needs in Victorville, CA.
Ready to experience the best in heating services? Call us at 760-247-5126 for top-rated Victorville, CA, heating services by FHA Services, Inc. We also proudly serve our customers in Mojave Heights and Oak Hills. Let's keep your home warm and comfortable together!