Hesperia, CA, Cooling Services
Looking for reliable Hesperia cooling services in Victorville or Lucerne Valley? FHA Services, Inc. is here to cater to your needs!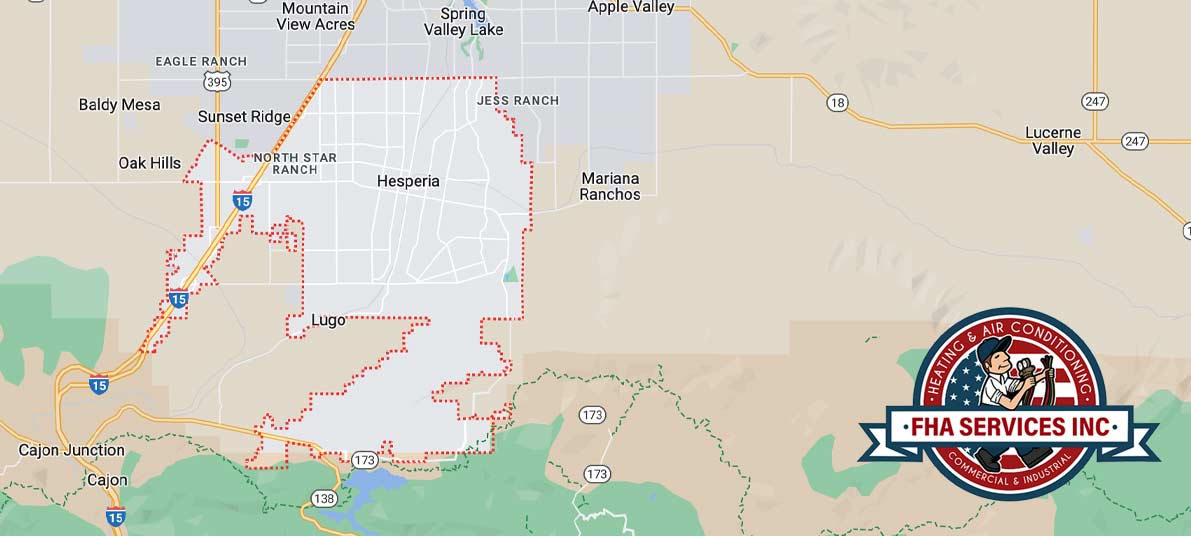 Are you tired of the intense heat in Hesperia, CA? Don't let the discomfort ruin your day. At FHA Services, Inc., we offer top-notch Hesperia cooling services, including air conditioning installation, central AC repair, AC maintenance services, and AC replacement.
As a family-owned and operated business for over 25 years, we pride ourselves on our same-day service and straightforward pricing. We're not just a company but a part of your community.
Don't just take our word for it! Check out our reviews from satisfied customers.
AC Repair & Maintenance in the High Desert Region
When your air conditioning system starts showing signs of distress, it indicates that you need professional help. At FHA Services, Inc., we specialize in diagnosing and resolving various air conditioning issues.
Whether your unit makes strange noises, fails to cool your home evenly, or leaks water, our team of trusted technicians is ready to handle everything.
Our AC repair services are comprehensive. We don't just fix the problem; we delve deep to understand its root cause, ensuring it doesn't recur. We've got you covered, from refrigerant leaks to faulty thermostats and malfunctioning fans.
During a maintenance visit, we'll inspect your system thoroughly, clean essential components, check for potential issues, and make necessary adjustments to ensure your unit is operating at its best.
But our services don't stop at keeping your AC unit running. We also aim to make it as efficient as possible.
An energy-efficient air conditioner helps the environment and saves you money on energy bills. We can optimize your system, suggest energy-saving settings, and even recommend upgrades, if necessary, with professional AC tune ups.
With our Hesperia cooling services, you're not just getting a quick fix. You're investing in the long-term performance and efficiency of your AC system, so you can have a comfortable and cool environment in your home.
Trust us to keep your air conditioner running smoothly, even in the sweltering High Desert heat.
AC Replacement and Installation in Victor Valley
Whether you're building a new home or upgrading your current system, our AC installation and replacement services in Victor Valley are here to help. We offer:
Installation of energy-efficient units from leading brands
Professional guidance to help you choose the right AC system
Warranties on all installations
Our Hesperia cooling services can provide a comfortable and cool home environment.
Want to learn more about FHA Services, Inc.? Visit our About Us page to discover why we're a trusted cooling service provider in Hesperia, CA.
Ductless Mini-Split Services in the High Desert
Our ductless mini-split services in the Victor Valley are the perfect solution for homes without ductwork. These services include:
Installation of ductless mini-split systems for efficient cooling
Maintenance and repair of existing systems
Expert advice on the best system for your home
With our Hesperia cooling services, you can enjoy a cool and comfortable home, no matter the layout. Let us bring comfort to your home with our top-rated cooling services.
Recent Jobs and Reviews in Hesperia, CA
Ready to experience the best in cooling services? Call us at FHA Services, Inc. at 760-247-5126 today! We proudly serve Hesperia, CA, and other areas, including Jess Ranch and Spring Valley Lake.