Oro Grande, CA, Heating Services
Don't let the cold get to you in Oro Grande, CA! Contact us for top-notch heating services in Victorville and Hesperia today.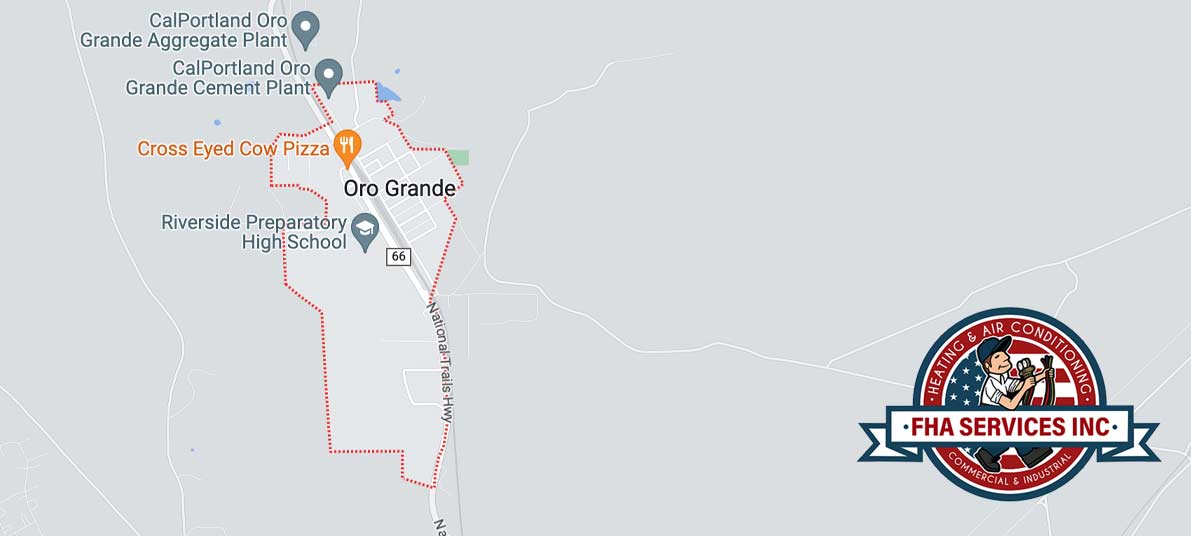 Are you tired of shivering in your own home during the cold winters of Oro Grande, CA? At FHA Services, Inc., we know how crucial a well-functioning heating system is for your comfort and safety.
As a leading provider of Oro Grande heating services, we offer a comprehensive range of services, including heater tune up, heating maintenance, and furnace installation. Our straightforward pricing and same-day service make it hassle-free to keep your home warm and cozy all winter.
Check out our customer reviews to see what others say about working with our heating repair company.
Central Heating Installation and Repair Services in the Mojave Desert
When the chill of the desert night sets in, a well-functioning heater is your best defense. At FHA Services, Inc., we specialize in a wide range of heater services, from swift repairs to full heating replacements.
Our team of trusted technicians has experience handling all heating systems, ensuring your home remains a sanctuary of warmth even in the coldest months.
We're not just about fixing issues; we're about providing long-term solutions that enhance the efficiency and longevity of your heater. Trust us to keep your home comfortable with our Oro Grande, CA, heating services.
Expert Furnace Repair & Installation Services in the Victor Valley
Your furnace is the heart of your home's heating system, and it deserves the best care. We offer top-tier furnace services, from urgent repairs to installing energy-efficient models.
Our team of furnace contractors uses the latest technology and training to handle any furnace issue, big or small. We don't just fix problems; we optimize your furnace's performance, ensuring it runs smoothly and efficiently.
With our professional heating services, you can rest assured that your furnace will keep you warm all winter long:
Emergency repairs: Available 24/7 for urgent furnace issues.
Installation: We install energy-efficient furnaces from top brands.
Maintenance: Regular inspections and cleaning to improve your furnace's lifespan and efficiency.
Replacement: We replace old, inefficient furnaces with modern, high-performing models.
Heater tune up: Preventative care to avoid unexpected breakdowns and costly repairs.
Customer education: We explain our work, empowering you to make informed decisions.
Trust our team to keep your furnace running smoothly all winter with our furnace maintenance service.
Want to learn more about us? Check out our About Us page to see why we're a trusted provider of heating services in Oro Grande, CA.
Superior Heat Pump Services in Neighboring Townships
Heat pumps are an excellent, energy-efficient solution for heating your home. However, like any system, they require regular maintenance and occasional repairs.
At FHA Services, Inc., we offer comprehensive heat pump services, from installing new systems to maintaining existing ones. Our team of professionals is well-versed in the latest heat pump technology, so your system is always running at peak efficiency.
We don't just fix issues; we enhance your heat pump's performance and lifespan. Trust our Oro Grande heating services team to keep your heat pump in top condition.
Ready to experience the difference with FHA Services, Inc.? Call us at 760-247-5126 for top-rated heating services in Oro Grande, CA. We also proudly serve the communities of Lucerne Valley and Jess Ranch.