Victorville, CA, Cooling Services
Experience the difference with our top-notch air conditioning services in Victorville, CA. We also proudly serve the communities of Lucerne Valley and Jess Ranch.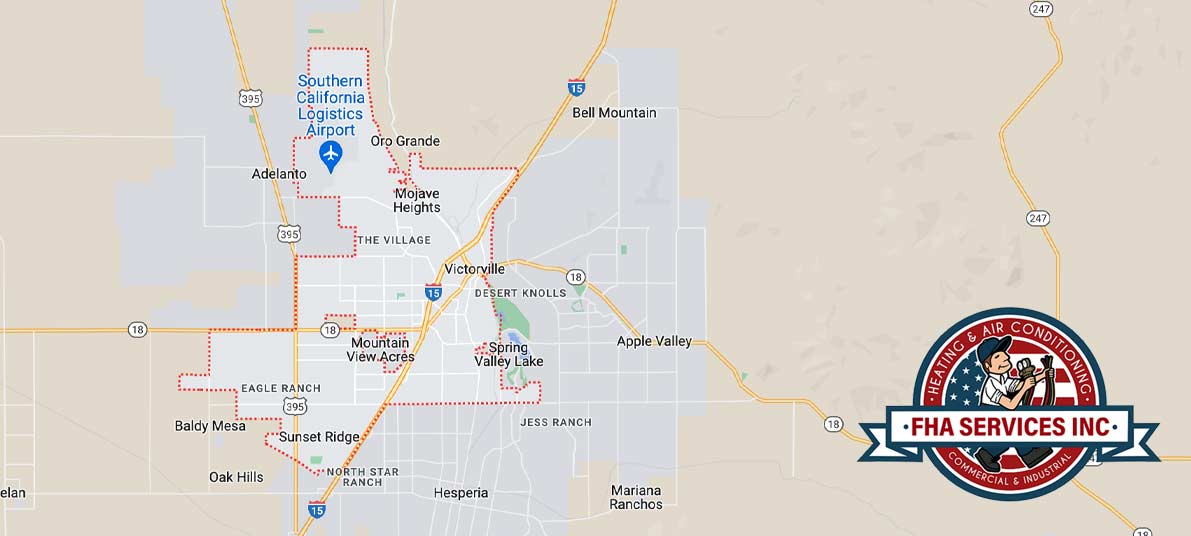 Are you tired of the sweltering summer heat in Victorville, CA, due to a faulty air conditioner? At FHA Services, Inc., we specialize in cooling services, providing prompt and reliable solutions to your AC problems.
Our services range from air conditioning installation to central AC repair, AC maintenance services, AC tune up, and AC replacement.
As a family-owned and operated business for over 25 years, we pride ourselves on our straightforward pricing and outstanding customer service. We're not just an AC contractor but your trusted partner in Victorville, CA.
Don't just take our word for it. Check out our reviews to hear from satisfied customers who have experienced our exceptional service first-hand.
Central AC Repair & Maintenance in Victor Valley
When your air conditioner starts making unusual noises, fails to cool your home effectively, or causes a sudden spike in your energy bills, it's time to call in the experts. We offer comprehensive AC repair and maintenance services.
Our process is meticulous and customer-focused:
Thorough inspection: Our trusted technicians start by thoroughly examining your system. We check all components, from the thermostat to the compressor, to ensure everything functions.
Accurate diagnosis: Once we've inspected your system, we accurately diagnose the issue. Whether it's a refrigerant leak, a faulty fan, or a worn-out compressor, we identify the problem and explain it to you in clear, understandable terms.
Efficient repairs: Our technicians perform efficient repairs using high-quality parts and the latest tools after diagnosing the issue. We do all repairs correctly the first time, saving you time and stress.
Preventive maintenance: Beyond repairs, we also offer preventive maintenance services to keep your air conditioner running smoothly. This includes cleaning the coils, checking the refrigerant levels, and inspecting the electrical connections.
Our AC repair and maintenance services not only improve your home's indoor comfort but also help to lower your energy costs and extend the life of your equipment. Trust our FHA Services, Inc. team for all your Victorville cooling services.
AC Installs & Replacements in the High Desert
If your air conditioner is frequently breaking down or is over 15 years old, it may be time for a replacement. Our team provides professional consultation to help you choose the right unit for your home. We ensure proper sizing and quality installation for maximum efficiency and comfort.
With our AC installation and replacement services, you can enjoy peace of mind knowing your cooling needs are in good hands.
Want to learn more about FHA Services, Inc.? Visit our About Us page to discover why we're the preferred choice for cooling services in Victorville, CA.
Ductless Mini-Split Services in Victorville, California
Experiencing uneven temperatures in your home or high energy bills? Our ductless mini-split services might be the solution you need.
We will assess your needs, carry out precise installation, and conduct thorough testing to ensure optimal performance. These systems offer individual room control, energy efficiency, and quiet operation, making them an excellent choice for any home.
Recent Jobs and Reviews in Victorville, CA
Ready to experience the best in Victorville cooling services? Call FHA Services, Inc. at 760-247-5126 today! We proudly serve Victorville, CA, and extend our services to Mojave Heights and Oak Hills communities.