Hesperia, CA, Heating Services
Experience the warmth of our top-notch heater tune up and furnace maintenance service in Hesperia, Victorville, and Lucerne Valley. Reach out to our team to discuss your heating needs today!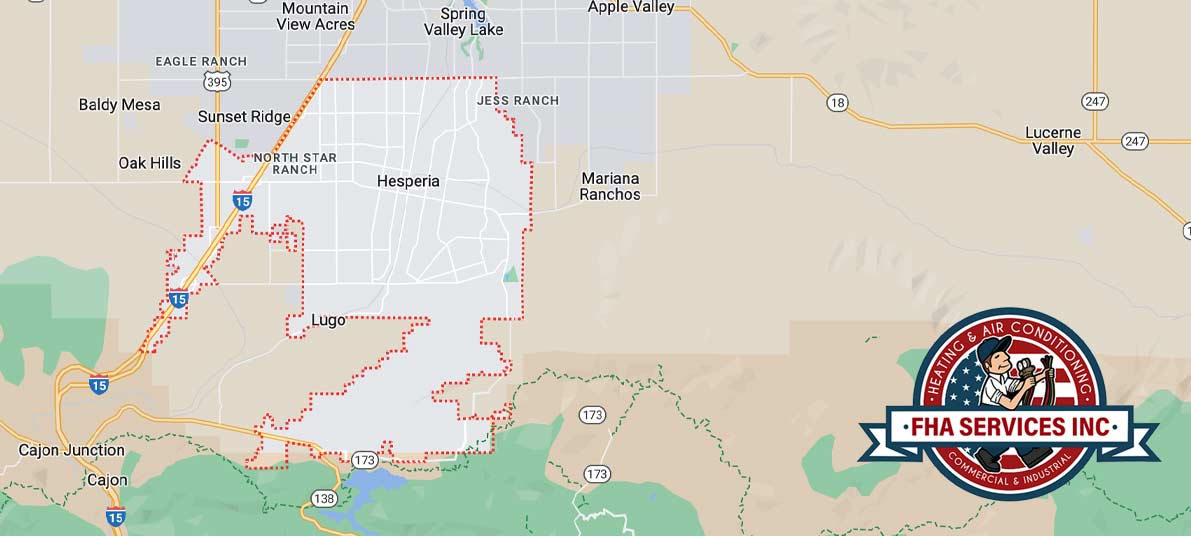 Are you shivering in your own home because your heating system is underperforming? Our FHA Services, Inc. team is here to restore comfort in your home with our premier Hesperia, CA, heating services.
Our services include heater tune up, heating maintenance, central heating installation, and heating replacement.
As a family-owned and operated business with over 25 years of experience, we pride ourselves on our same-day service and straightforward pricing. We're not just a heating repair company; we're your neighbors committed to keeping you warm.
Read our reviews and see why our customers in Hesperia, CA, and beyond recommend us to their friends and family!
Comprehensive Heating Maintenance, Repair, and Installation in Victor Valley
When your heater starts making unusual noises, frequently cycles, or causes high energy bills, it's a clear sign you need our expert services.
At FHA Services, Inc., our trusted technicians can thoroughly inspect your heating system, diagnose the issue, and provide a precise, upfront quote. With over two decades of experience serving Victor Valley, we're the experts you can rely on for your Hesperia heating services.
Depending on the problem, we can repair or replace parts as necessary or even install a new system if it's more cost-effective.
By choosing our heater repair and installation services, you can expect improved heating system efficiency, lower energy bills, and increased comfort in your home.
Expert Furnace Repair & Installation in the High Desert Region
If your furnace provides inadequate heat, has a yellow pilot light, or is simply old and inefficient, it's time for a professional service.
Our team can inspect your furnace, identify the problem, and offer a cost-effective solution. This could range from a simple repair to a part replacement or a complete furnace installation.
As your trusted furnace contractor in Hesperia, CA, we use the latest technology to keep your home warm throughout the winter. Our furnace repair and installation services not only enhance the comfort of your home but also ensure the safety of your heating system and extend the lifespan of your furnace.
Learn more about our commitment to outstanding customer service and on-time service by reading more about us.
Efficient Heat Pump Services in the High Desert
High energy bills, uneven heating, or frequent cycling of your heat pump are all signs that you need our expert services. Our professional technicians can thoroughly inspect your heat pump, diagnose any issues, and repair or replace parts as necessary.
If required, we can also install a new heat pump. Our heat pump services can improve your heating system's efficiency, extend the life of your equipment, and ensure consistent comfort in your home.
As your reliable Hesperia heating services provider, we can ensure your heat pump works optimally in the Victor Valley and beyond. Let us bring the heat back to your home!
When you need a furnace maintenance service or furnace repair service in Hesperia, CA, call our experts at FHA Services, Inc. at 760-247-5126. We also proudly serve our neighbors in Oak Hills and Mariana Ranchos.