AC & Heating Services in Mariana Ranchos, CA
Looking for reliable Mariana Ranchos cooling services in Apple Valley & the High Desert? Contact our team for expert advice!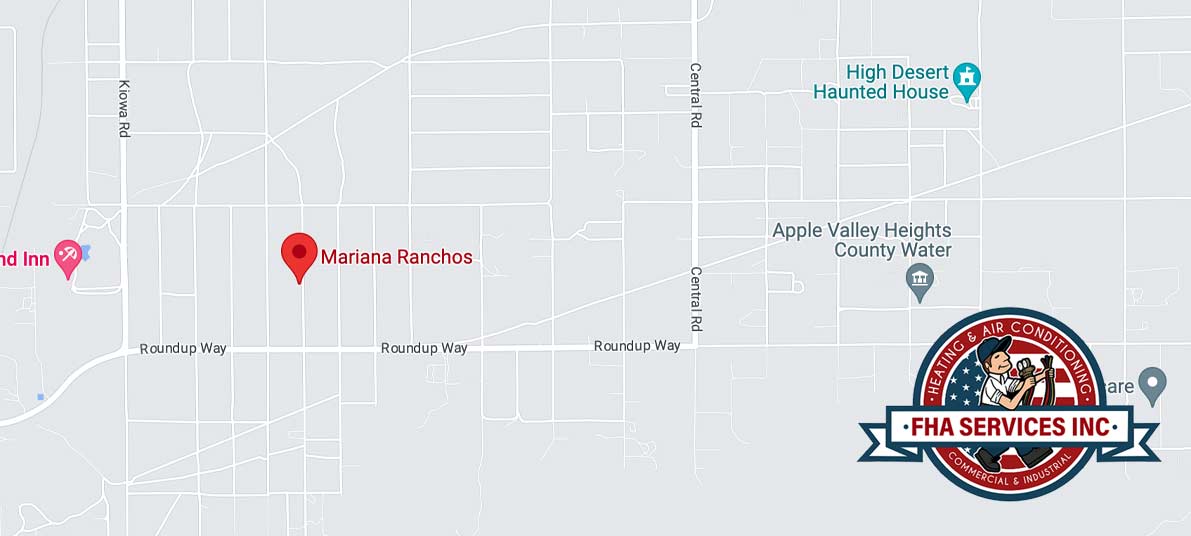 Our team at FHA Services, Inc. is ready to serve Mariana Ranchos, CA, from air conditioning installation to central AC repair and AC tune up. You can rely on us to zero in on the issue and give an honest opinion about whether you need AC replacement, repair, or other services.
People often neglect heating and AC maintenance services. Be smart with your HVAC systems, and trust us to help you keep your unit from letting you down when you need it the most.
Want to know more about our quality of service as a trusted AC contractor? Read our reviews from customers throughout the Victor Valley.
Central AC Repair & Maintenance in Marianas Ranchos, CA
As your go-to air conditioning contractor in Mariana Ranchos, CA, we use the latest equipment to find the problem and our expertise to fix it. Our technicians can also advise you on a maintenance schedule to prevent further issues.
If you're a member of our affordable maintenance plan, we offer two free annual services. During these tune-ups, our technician will:
Check there is enough refrigerant and that there aren't any leaks.
Inspect the ducks for leaks, debris, mold, and other potential issues.
Ensure the evaporator coil is in good condition.
Make sure that the electronics are in good order.
Check the electric terminals and recoat them if necessary.
Evaluate the condition of the moving components, lubricating or replacing them.
Calibrate the thermostat.
Whatever your needs, our FHA Services, Inc. team will handle the service professionally and quickly.
AC Installs & Replacements for the Community of Apple Valley, CA
Is it time to install a new system in your home or business? Our Mariana Ranchos cooling services can help you find the best match for your budget and needs. If you need help financing the project, we'll put you in touch with WiseTack or HousecallPro.
Is it time to get a new air conditioner? Here are some signs that it might be:
Your air conditioner is 15 years old or more.
You need to replace a major part, like a compressor.
The unit will need ongoing repairs over the next few months.
There is no way to restore optimal efficiency.
Your unit can no longer maintain optimal temperatures.
There are several leaks.
You want to access better features, like programmable thermostats.
Our FHA Services, Inc. team will also discuss the ideal maintenance schedule to keep your new unit in perfect working order.
Want to learn more about us and our work in the Victor Valley area? Browse our website for more information!
Ductless Mini-Split Services in the High Desert
Many people in Mariana Ranchos, CA, are opting for ductless units. There are many reasons for this, including:
Lower operational costs
Quick installation
Compact design that fits in anywhere
Unobtrusive to fit into most decor
Easy to maintain
No need for expensive ductwork
These units allow for zoned cooling
Recent Jobs and Reviews in Mariana Ranchos, CA
Are you in Victorville, Hesperia, or another town in the High Desertf area? Do you need expert cooling services to restore your comfort? Call FHA Services, Inc. at 760-247-5126 for a free estimate or to schedule service in Mariana Ranchos, CA, and the surrounding areas.