Spring Valley Lake, CA, Heating Services
Keep the cold from getting to you in Victorville, Hesperia, or Spring Valley Lake, CA. Reach out to us for top-notch heating services today!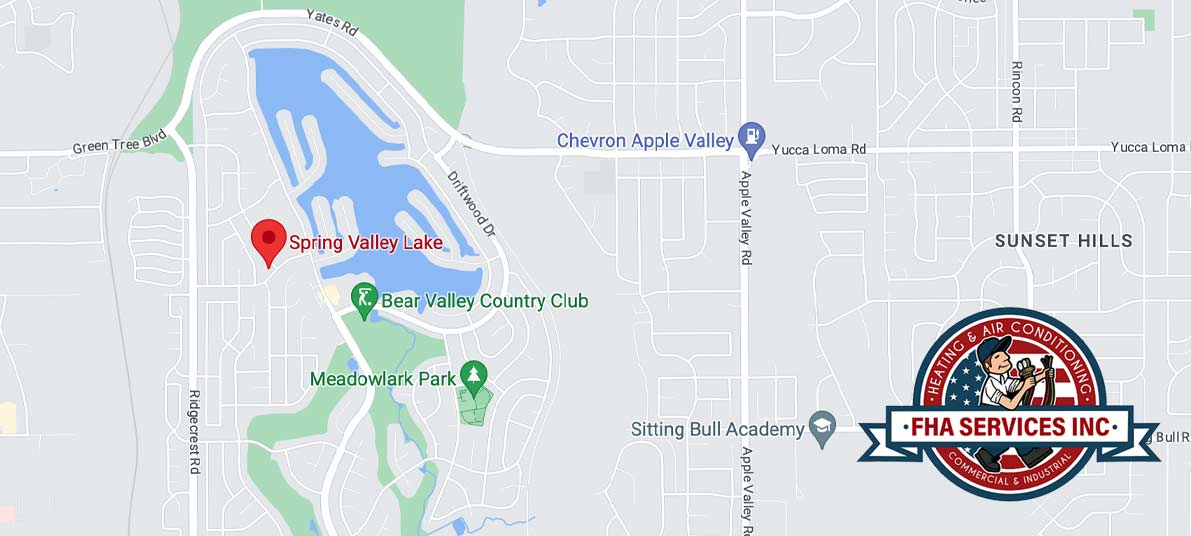 Are you tired of waking up to a cold house during the winter in Spring Valley Lake, CA? At FHA Services, Inc., we'll make sure you stay warm and comfortable in your home.
As a leading Spring Valley Lake heating services provider, we offer a wide range of solutions, including heater tune-ups, heating maintenance, and central heating installation.
As a family-owned business operating for over 25 years, we pride ourselves on our straightforward pricing and outstanding customer service. We serve Spring Valley Lake, CA, and beyond, ensuring our clients can rely on us for their heating needs.
Don't just take our word for it! Read our reviews from past clients to see why we are the trusted heating repair company in Spring Valley Lake, CA.
Heating Replacement, Repair, and Installation in Victor Valley
When your heater starts acting up, it's time to call in the experts. At FHA Services, Inc., we offer:
Comprehensive heater diagnostics: Our skilled technicians will thoroughly inspect your heating system, identify any issues, and provide a detailed report. This includes checking the thermostat, inspecting the heat exchanger for safety, and ensuring the system operates at peak efficiency.
Quick and efficient heater repairs: A malfunctioning heater can cause discomfort, especially during the cold months. That's why we strive to provide fast and efficient repairs. Whether it's a minor fix or a major repair, our team is ready to handle it all.
Professional heater installations: We offer professional heater installation services if your heater is beyond repair or you want to upgrade your system. We work with top brands in the industry and ensure the installation process is smooth and hassle-free.
We understand the importance of a well-functioning heater, especially during the cold months. Our same-day service and use of the latest technology ensure your heating system runs at its best. Trust us for your heating service needs in Spring Valley Lake, CA.
Furnace Repair & Installs in the Victor Valley
A faulty furnace can lead to discomfort and high energy bills. Fortunately, we provide:
Expert furnace repair services
Quality furnace installations
Regular furnace maintenance services
As a BBB-accredited furnace contractor, our trusted technicians are well-versed in all furnaces and can fix any issue you might be facing. With our furnace services, you can rest assured that your home will stay warm and cozy all winter.
Want to learn more about us? Visit our About Us page to know us better and our Spring Valley Lake heating services.
Heat Pump Services in Victorville
Heat pumps are a cost-effective, eco-friendly heating solution. At FHA Services, Inc., we provide:
Heat pump installation: We help you choose the right heat pump, considering your specific needs, and ensure professional installation for optimal performance.
Heat pump repair: Our technicians can swiftly diagnose and fix any issues with your heat pump, from malfunctioning thermostats to refrigerant leaks.
Heat pump maintenance: Regular maintenance is crucial for your heat pump's efficiency. Our services include system cleaning, issue detection, and necessary adjustments.
Ready to experience the best heating services in Lucerne Valley, Oro Grande, or Spring Valley Lake, CA? Call FHA Services, Inc. at 760-247-5126 today! We're here to keep your home warm and comfortable all year round.